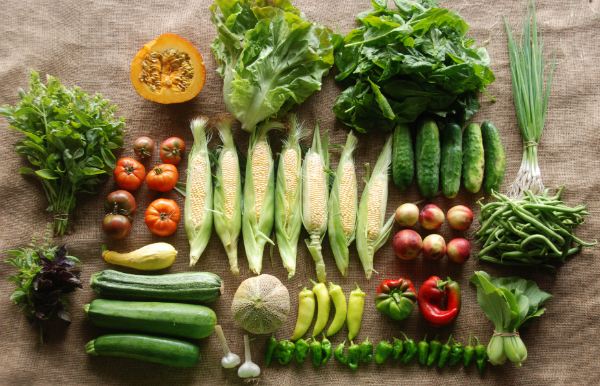 SEVENTH WEEK OF THE SUMMER SHARE
SWEET CORN!!!  There is an old adage which says, 'Have the water boilin' before you pick the corn."  We pick your corn early on delivery morning to ensure it is very fresh for you.  We HIGHLY recommend that you eat it tonight!  The sugars in the corn start to turn to starch immediately after picking.
We have included some Nectarines in your box this week. 'Goldmine' are the white fleshed variety and 'Fantasia' are the yellow flesh variety.
The melon crop has started – unless we cut them we a little unsure whether some of these new varieties we are growing are fully ripe.  We wait until they "slip" off the vine to harvest them - the plants way of saying they are ready for eating.
The pumpkin skin adds a lovely nutty flavor to it – no need to peel this variety.
CRATES We have many CSA members who have more then one crate.  Please remember to leave your crate out on Delivery Day or bring them to the farm.  As we are so low on crates, the Farm Pick Up people need to bring bags to transfer their vegetables into as the crates need remain on the farm - Thank you!
NOTES ON STORING THE HARVEST Please check out our Vegetable & Fruit page on the website to find tips on maximizing the life of your veggies.  We envisage that many of the vegetables you are receiving this week will last for two weeks with careful attention to storing upon arrival. Although we do wash all the greens after harvest, we are washing to take the heat out of the plants and wash away some surface dirt, not to prepare them for consumption.  We also spray a seaweed/herb brew about every ten days.  While this will not harm you, it does have a taste. We do suggest washing your produce prior to eating.
WHAT'S IN THE BOX The following are the items harvested this week.  Items and quantities in your box may vary depending on your harvest day and the total harvest of each crop.  The boxes are completely governed by what is ripe and ready for harvest and how much of it there is.  We endeavor to divide the harvest fairly. 1/4 share: 5-7 items   1/2 share: 8-10 items   Full Share: 10-12 items
Basil – Large Pesto bunches of basil this week. Lemon Basil and Purple Basil – Bunches of these two together.  Lemon basil is delicious in marinades and salad dressings and purple basil adds a great colour to any dish including cucumber and tomato salad and  zucchini ribbon salad. French Beans – Green bush beans.  Just snap off their heads and steam them or add them to tomato sauce.  Great in salads too! Chillies – To see the varieties we are growing and to identify what you receive, please go to our Capsicum and Chillies post. Cucumbers – We are growing several varieties of cucumber.  One is noticeably bitter.  Test your cucumber.  If it is bitter, peel it, slice it and place it in a colander with salt for 20 minutes.  Rinse and drain.  Rinse and drain.  Dress with olive oil, vinegar, salt and pepper. There are surplus cucumbers.  Expect a few extras. Garlic – This is biodynamically grown garlic.  Sprayed with seaweed brews and biodynamic preparations.  It is full of trace minerals, strong and sweet.  This is the last week of the little heads! Lettuce – Harvesting 'Grandpa Admires'.  We will have a gap in the lettuce harvest due to the heat. Melons – Harvesting green flesh 'Edens Gem' and orange flesh 'Carmes de Noir', 'French Chantenais', and 'Planters Jumbo'. Spring Onions – Good for salads and stir fries. Pumpkin – 'Red Kuri' is a mild pumpkin with a nutty flavoured skin.  Good roasted and in curries. English Spinach – Big bags of English spinach. Sweet Corn – With two corn plantings ready close to each other, expect extra ears in your box. Tomatoes –Field tomatoes are here! We are currently harvesting heirloom varieties 'Black Russian', 'Marglobe', 'Roma', 'Tommy Toe' and 'Ox Heart Red'. Cherry Tomatoes – Harvesting 'Sungold' cherries. Zucchini –We have a new variety - 'Grey Zini'.  This is an Italian stuffing zucchini.  We are also harvesting 'Romanesco' and 'Black Beauty'. Check out this article on what to do with the glut of zucchini!
Extras
Baby Bok Choy
– We experimented with some new seed and have bunched the results - lovely baby bok choy in the heat of summer! Definitely will be planting more
. Capsicum
– We are harvesting 'Purple Beauty', 'Emerald Giant', 'California Wonder', 'Golden Cal Wonder' and 'Corno di Toro'. To identify what you receive, please go to our
Capsicum and Chillies
post. We harvest the capsicums "breaking"- with some colour but maybe not fully turned.  If you leave these in your fruit bowl, they will turn fully red in a few days!
Eggplant
– We have begun harvesting the larger variety of eggplant 'Florida Market'.  This is the classic purple eggplant.
Nectarines
– 'Goldmine' are the white fleshed variety and 'Fantasia' are the yellow flesh variety.  We wait until the fruit is ripe to harvest.  These should be ready to eat. They will store best in the fridge if you are not going to consume them today.
Pimiento de Padrons
–Delightful "sometimes hot, sometimes not" chilies that are
wonderful fried
as a Tapas style entree.  They have a lovey full flavour great for pizzas and stir fries too. These are rotated through the boxes.  We have lots of plants but the harvest has only just begun.  It might take awhile to get them into everyone's box.
Summer Squash
– 'Golden Crookneck'.  The Golden crookneck are sweet steamed with butter, salt and pepper.
Grey Zini
– This is an Italian stuffing zucchini.
U-PICK FLOWERS
We have a large assortment of cut and edible flowers planted all over the farm.  CSA members are welcome to come during the farm pick up times and cut a posy and pick some edible flowers.
FARM PICK UP SCHEDULE
To accommodate those picking up their
Mountain View Farm milk
,
Farm Pick Up times
are
Friday afternoon from 2pm-5pm
and
Saturday mornings from 8am-11am
.
Please contact us if you need to arrange to pick your vegetables up outside of these times.
Follow us on instagram and facebook.
Please note – Photo is of a full share box.